• Barbaydose • Bay Area • Bsidez • Hip Hop • Hiright • Oakland • The Hieroglyphics • WeInTheCloud
In this first Video/in-person episode of This; That; & the Third Ammbaataa sits with the group Barbaydose (Bsidez, Hiright and WeInTheCloud) out of the Bay Area. Fresh off of their latest video offering "SEASONS" (HERE) the crew breaks down their upbringing, influences, and how coming up under the tutelage of The Hieroglyphics has shaped and informed them on how to move. Barbaydose describes what it was like adjusting to the Pandemic as artists and how they used the shutdown to their advantage. See what's next for Barbaydose and more. Filmed at the Fairfax Studio in East Oakland, CA. Follow them:...
---
• Bay Area • Champ Green • D.Bledsoe • Dj D sharp • Hip Hop • MacArthur Maze • Oakland • Richmond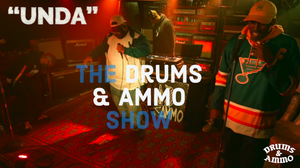 The Drums & Ammo Show "Unda" featuring Champ Green, D.Bledsoe with DJ D Sharp at The Complex (San Francisco). Check out Champ Green's latest project "Adult Contemporary Playeristic Love Diaries" and D.Bledsoe's "Rich & Saucy" both produced by  @noblmusic4997  as well as MacArthur Maze "First Friday" out NOW. Ⓜ️Ⓜ️ #dna @imdbledsoe  @champgreen  @DJDsharp www.DrumsAndAmmo.com Filmed at The Complex Recording Studio, SF #DNA
---
• Bay Area • Dance • frequencyexclusive • Hip Hop • Soul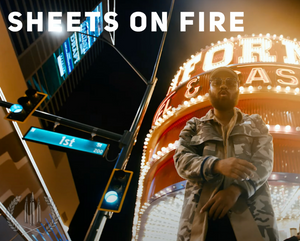 Artist/Producer frequencyexclusive releases new visuals "Sheets On Fire", the second single off the debut project entitled "Pretty Pussy & Sunsets" which is set to release February. Ammbush, Creative Director of Drums & Ammo was introduced to frequencyexclusive 10 years ago after the release of a song/video FE produced, "Brand Spanking New" (PSD featuring Symba). Drums & Ammo connected with frequencyexclusive for an exclusive (pun intended) interview covering his upbringing, influences and some of his journey as an Artist fine tuning his Life and craft. FE: My name is frequencyexclusive aka exclusive. The majority of my childhood was spent between Oakland...
---
• Bay area • deuce eclipse • DUST • Oakland • zion i
 DJ Ammbush sits with MC Zion of Zion I for an in depth interview covering Zion I's early years in the ATL to building and establishing a solid fan base in the Bay Area. Zion breaks down the importance of maintaining independence after a stint with a major label (which label?). Tune into a cool conversation with homies discussing the Bay Area, the changes the Bay has seen over the years and how the music scene as a whole has evolved.   *Interview from 2015. #JusticeForZumbi  #DNA
---
• 4-rax • 427 • bay area • grand nationxl • Kevin Allen
MC/Producer/Soul Brother #1 Kevin Allen blesses The Reef Studio for a intimate performance featuring selections off his latest album "Nothing Lasts Forever" with a full band. The Wolves are out. Kevin Allen - Lead Vocals Thomas "Nacho" Molina - Trumpet Josh Icban - Guitar Bryan C. Simmons - Keys Julius Jarvis - Drums Keith Snodgrass - Bass CREDITS Alexius Franklin - director of photography, camera B operator and editor, production Jarin Tindall - recording, production Elijah Flowers - production camera a operator Lucas Boilon - mix & master Zharmila - production, bts Jaylin - photography