• 1979 • 2 chainz • 2-Left • 209 • 36 Chambers • 36 Trap Houses • 4-rax • 427 • 444 • 4two7 • 50 Cent • 60 East • 916 • 9th Wonder • A$AP MOB • A$AP Rocky • A-1 • A-F-R-O • A-Plus • Ableton • Above All • AC3 • Activist • Adam Raps • Adelaide • Adidas • Age Scott • akai • Al Jieh • Altered Crates • Amanda Beane • Amber Marks • Ammbaataa • Ammbush • anderson .paak • AON Preme • Apollo Brown • Aroma • art • Artist • ASTU • ATL • Pusha T • Ran Days • Raphael Saadiq • RCA • Reckless • rich & saucy • Richie Rich • Richmond • Rick Ross • Roux Shankle • Roxanne Shante • Roy Ayers • Royce da 5'9 • Royce the 5'9 • Run DMC • Saafir • Soul Assassin • Soul Council • Soundcloud • Street art • Sub Pop • Sunspot Jonz • Sway & King Tech • SWTBRDS • Symba • T. Carrier • Table 5 music group • Tajai Massey
Catch @ammbaataa live in the mix/and mic tonight on DNA "Friendly Fire" 9-10 www.ADP.fm @alldayplayfm 🔊 #DNA 
---
• 1979 • 2 chainz • 2-Left • 209 • 36 Chambers • 36 Trap Houses • 4-rax • 427 • 444 • 4two7 • 50 Cent • 60 East • 916 • 9th Wonder • A$AP MOB • A$AP Rocky • A-1 • A-F-R-O • A-Plus • Activist • Adam Raps • Adelaide • Adidas • Age Scott • akai • Altered Crates • Amanda Beane • Ammbaataa • Ammbush • anderson .paak • ASTU • Audio Vandals • Aurora Music • Austan Found • AWGE • Backwood Harri$ • Baghead • Bambu DePistola • bang data • bay area • BBW • beat • Beat Rock Music • Beezy love Bands • Bells Atlas • Benny The Butcher • beyonce • bianca brown • Big Hongry • billy woods • Creative • Cuts • Cutso • cypress hill • D'angelo • San francisco
Professa Gabel & Brycon return to a world made richer by their sheer presence with this video for "This Or No?", the bounceworthy lead single from their collaborative "Corner Booth" project released earlier this year. Filmed by AT Cooper & Keith Thompson and edited by Marcus Mason for Bocana Media, who all made a weekend afternoon in the country with our heroes feel equal parts mellow and psychedelic. Coming to your tiniest & widest screens July 1, 2022 Follow them: @Bryconmusic @ProfessaGabel Download "Corner Booth" HERE Brought to you by Ten Flights Records & Star Bakery Records A Drums & Ammo...
---
• 1979 • 2 chainz • 2-Left • 4two7 • A-F-R-O • Adidas • Age Scott • Altered Crates • Ammbaataa • Ammbush • Aroma • AWGE • bang data • beat • Beezy love Bands • Bells Atlas • Big Hongry • Bijan Kazemi • Biz Markie • Brookfield Deuce • Brycon • Grand Nationxl • Hip Hop • Rap
DJ Ammbush does a recap of some favorites from the 2021 Drums & Ammo "Friendly Fire" radio show. Check "Friendly Fire" with Ammbaataa every Friday 9-10 www.ADP.fm @Alldayplayfm. Which ones were your favorites? Did they make the list? Tune in to find out!
---
• 1979 • 2 chainz • 2-Left • 209 • 36 Chambers • 36 Trap Houses • 4-rax • 427 • 444 • 4two7 • A$AP MOB • A$AP Rocky • A-1 • A-F-R-O • A-Plus • AC3 • Adam Raps • Adelaide • Adidas • Amanda Beane • Amber Marks • Astu • cee lo green • Central California • Cham • Champ Green • Charlie mack • Chase Moore • Chester • chicago • Chow Mane • Chris Brown • Cleveland • clyde carson • colemine records • COLORQUEEN • common • Conway the Machine • Cortez • CPlus • Curren$y • D. Bledsoe • da beatminerz • Dame The Drummer • dbledsoe • deuce eclipse • disable planets • DJ • Dj D sharp • Dom Kennedy • Fantastic • Fantastic Negrito • Fashawn • fashion • Fat$ • Firefly Oshenisis • FutureLoveCult • Havoc • hiphop • Hop • House of Pain • Icelandic • instrumental • Kevin Allen • Khayree • Killah Priest • King Izrell • KingiKeem • krs one • Larry June • LaRussell • Lil Fame • Living Legends • ll cool j • Lo-Fiction • Los Angeles • Louie Vuitton • lovetones • Mach-Hommy • Madvillain • Main Attrakionz • Marciano YR • Mari Taylor • Marketing Kings • Mary J. Blige • maschine • Maya Huyana • Mota Media • Murs • music • Nappy Nina • Nash Npire • ODB • Odd Fututre • Ovrkast. • Styles P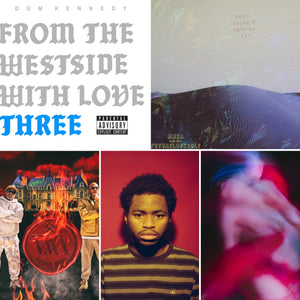 DNA "Friendly Fire" tonite w/ @ammbaataa 9-10 www.ADP.fm @alldayplayfm, new music from @futurelovecult • @ovrkast • @astu.music • @dopeitsdom • @stylesp x @mobbdeephavoc and more 💎's. Tune in #DNA
---
• 1979 • 2 chainz • 36 Trap Houses • 60 East • A-F-R-O • Adelaide • Age Scott • Amber Marks • ASTU • Audio Vandals • Austan Found • Babs • Backwood Harri$ • backwoodz studio • bang data • beat tape • Beezy love Bands • Benny The Butcher • Bijan Kazemi • Blu • Blues • boot camp clik • Branding • brookkly • Bryce Savoy • Buffalo • Charlie mack • Chase Moore • Cheap limousine • Chow Mane • Guam • Hip Hop • Oakland
New visuals for "Forty Eight Bars" , the latest release from Oakland Producer/MC BackWood Harri$. Produced by Family Affair, the production Alias of Harri$. "Forty Eight Bars" was shot and directed by AKA Señor T for the DNA Art Dept. The video was shot at Fairfax Studio, located in the Historic Fairfax Business District in Oakland CA. Shot on a Go Pro, edited with Adobe Premiere Pro. INSTAGRAM: https://www.intagram.com/backwoodharris/ Like/Subscribe and your dreams will come true