• 1979 • 2 chainz • 2-Left • 209 • 36 Chambers • 36 Trap Houses • 4-rax • 427 • 444 • 4two7 • 50 Cent • 60 East • Age Scott • akai • Al Jieh • Altered Crates • Amanda Beane • Amber Marks • Fantastic • Fantastic Negrito • Fashawn • fashion • Fat$ • Firefly Oshenisis • Firing Squad • food • Fresh Daily • Fresh Prince • HMZA • House of Pain • Hudson • Ian Kelly • Iceland • iLL Camille • isai • ISAIAH with the Hair • ishgoswish • izrell • jada imani • Jahi • JAke one • Jake Paul • Jameel Naim X • Symba • Toronto • Trackademicks • transistor sound studio • Troyllf • TV • Tyler the creator • Wiki • Willie Green • wiz khalifa • World Went Crazy • YArd Massive • Yared • Yesway • young ma • Zharmila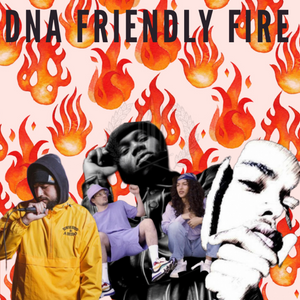 Catch DNA "Friendly Fire" tonite w/ @ammbaataa 9-10pm www.ADP.fm @alldayplayfm 🔥 new music from @jadaimani510 x @fraktheperson • @therealsymba • @hasta_la_pasta • @passportchalie and more.  #DNA
---
• 4-rax • 427 • Ableton • Above All • AC3 • Activist • Adam Raps • Chase Moore • Cheap limousine • chicago • dreego • Fresno • funk • FutureLoveCult • GetBenny • Ghostface Killah • Lo-Fiction • Marketing Kings • Mary J. Blige • maschine • MC Wicks • Method Man • nimsins • Nxseasxns • Oakland • Professa Gabel • protools • psychedelic • public enemy • roc marci • Roc Marciano • rock • Roots & Branches • Roux Shankle • Royce da 5'9 • Royce the 5'9 • the Luniz • The Premier Hussle • The Roots • Tidal • Toby • tofu jack • Tokyo Yens • Too Short
"Sword", new visuals from NimSins featuring Dreego and Nxseasxns is an above the clouds stream of conscious joint covering more topics in one song then most contemporary albums: relationships, trauma, societal issues etc etc. Since Drums & Ammo has been rocking with NimSins we learned quick that he was an upcoming artist with the knack of creating new music with a classic feel that appeals to his contemporaries as well as the "OG' segment of the Hip Hop diaspora. That's exemplified in this line from his feature Nxseasxns "Blowing down dro like the Ohio Players". Stay at DNA dot com...
---
• 1979 • 36 Chambers • 36 Trap Houses • 4-rax • 427 • A$AP Rocky • Above All • Adelaide • Ammbaataa • Ammbush • anderson .paak • AON Preme • Artist • ATL • Babs • Backwood Harri$ • backwoodz studio • Bambu DePistola • bang data • BBW • Beat Rock Music • beat tape • Beezy love Bands • Bells Atlas • beyonce • Biz Markie • blackmoon • Blues • boot camp clik • Brainorchestra • Brookfield Deuce • Brownsville KA • Brycon • Hamza • Hier • Hieroglyphics • HMZA • Jake One • Larry June • Souls of Mischief
Drums & Ammo are proud to announce the first release from Drums & Ammo ! HMZA "Lost Time" produced by Jake One! HMZA and Drums & Ammo Founder Ammbaataa met around 2015-16 after Ammbaataa picked up HMZA for a fateful Uber ride that would kick off a friendship and support system for both individuals. Drums & Ammo Recordings promises to keep it "spine tingling, mad styles, crazy dangerous bust your sh*t open beats" - Raekwon on Outkast "Rosa Parks" skit                                        ...
---
• 1979 • 2 chainz • 2-Left • 209 • 36 Chambers • 36 Trap Houses • 4-rax • 427 • 444 • 4two7 • 50 Cent • 60 East • 916 • 9th Wonder • A$AP MOB • A$AP Rocky • A-1 • A-F-R-O • A-Plus • Ableton • Above All • AC3 • Activist • Adam Raps • Adelaide • Adidas • Age Scott • akai • Al Jieh • Altered Crates • Amanda Beane • Amber Marks • Ammbaataa • Ammbush • anderson .paak • AON Preme • Apollo Brown • Aroma • art • Artist • ASTU • ATL • Pusha T • Ran Days • Raphael Saadiq • RCA • Reckless • rich & saucy • Richie Rich • Richmond • Rick Ross • Roux Shankle • Roxanne Shante • Roy Ayers • Royce da 5'9 • Royce the 5'9 • Run DMC • Saafir • Soul Assassin • Soul Council • Soundcloud • Street art • Sub Pop • Sunspot Jonz • Sway & King Tech • SWTBRDS • Symba • T. Carrier • Table 5 music group • Tajai Massey
Catch @ammbaataa live in the mix/and mic tonight on DNA "Friendly Fire" 9-10 www.ADP.fm @alldayplayfm 🔊 #DNA 
---
• 4-rax • 427 • bay area • grand nationxl • Kevin Allen
MC/Producer/Soul Brother #1 Kevin Allen blesses The Reef Studio for a intimate performance featuring selections off his latest album "Nothing Lasts Forever" with a full band. The Wolves are out. Kevin Allen - Lead Vocals Thomas "Nacho" Molina - Trumpet Josh Icban - Guitar Bryan C. Simmons - Keys Julius Jarvis - Drums Keith Snodgrass - Bass CREDITS Alexius Franklin - director of photography, camera B operator and editor, production Jarin Tindall - recording, production Elijah Flowers - production camera a operator Lucas Boilon - mix & master Zharmila - production, bts Jaylin - photography