• A Family Not A Group • Adeyemi • EaSWay • Grand-0 • Ozer • Professa Gabel • Serg2x • Stunnaman02 • Zemyran
"Read the room, Bro". Vibe Master Professa Gabel touches back down on the DNA site with visuals for "The Bay Lebowski" (Directed by Oaday) produced by Adeyemi. Gabel and Co. aren't anywhere close to being new to DNA Land, his last visit was accompanied by production monster Brycon via the "Corner Booth" project (HERE). What more can I say? Check the method and stay tuned for more from our San Francisco DNA'ers. "Vibes"  - Professa Gabel Background: Introducing Professa Gabel, the renowned rapper and entertainment specialist who is set to take the hip-hop world by storm with his highly anticipated album, "The Bay...
---
• 2ez • EasSway • Ozer • Wavy Kev
Frequent DNA collaborator Ozer touch's back down on the Drums & Ammo digital soil, not by himself but with fellow FNG (Family Not a Group) homie EaSWay for this pre Summer warm up cut "Dice Rollin". Ozer has established himself to be an MC that maintains to give you jewels mixed in with cool out energy with lines like "Always said Imma be somthin, my fam ain't even believe me, I had to tell my blood imma see somethin". I'm sure a huge segment of inspiring artists as well as artists who've "made it" can relate to those lines. EaSWay...
---
• astu • bianca brown • ISAIAH with the Hair • mia pixley • ohmi • ozer • sunday • tofu jack
"Wasting Time" is the illest possee cut to come out of the Bay since The Luniz "5 On it", too much flavor to front on. The first single from Boyish Records' debut compilation project, "Camp Boyish I", is a line up of the Bay Area's Super Heroines/Hero's. The song was written/produced/crafted by 12 Bay Area based artist that convened at Boyish records first writing camp. Their mission: write and record 5 songs in a 2 day period. Run the numbers up for these emerging Artists, all Powerhouses in their own right. Keep an eye out for Boyish Records. "Wasting Time"Starring:...
---
• 1979 • 2 chainz • 2-Left • 209 • 36 Chambers • 36 Trap Houses • 427 • 444 • 4two7 • Altered Crates • Amber Marks • Ammbush • Bay Area • Big Hongry • chicago • Cleo Sol • Cleveland • colemine records • Creative • cumbia • Curren$y • Hip Hop • Jaji Supreme • Nate Grapes • nimsins • Ozer • Poo$ie • Production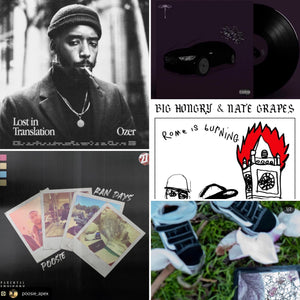 Catch DNA "Friendly Fire" tonight w/ @ammbaataa 9-10pm www.ADP.fm @alldayplayfm 🔊 new music from @poosie_apex / @ozersf / @jaji.___ / @nimsins / @bighongry x @nategrapesbitch and more, tune in 🔊#DNA
---
• 2 chainz • 2-Left • 36 Chambers • 60 East • 9th Wonder • Adelaide • Altered Crates • Ammbaataa • Ammbush • anderson .paak • AON Preme • Audio Vandals • Babs • backwoodz studio • Baghead • bay area • beat • Beezy love Bands • Big Hongry • Bilal • Biz Markie • boot camp clik • Brookfield Deuce • Buffalo • Cava Menzies • Champ Green • Charlie mack • Chase Moore • Cheap limousine • Chester • colemine records • Conway the Machine • D'angelo • Dame The Drummer • dapper dan • Ozer • Paqgod • san francisco • The Jealous Guys
  San Francisco's own 'Ozer', has been nurturing his lyrical gift since the age of six, when he first began using music as his sanctum from the challenges of life. On his new track, 'Get Busy', Ozer teams up with DC native, now Bay Area residing artist, 93 Paqgod for the mellow, yet powerful track, produced by Cheap Limousine. As stated within the chorus, "Been tucked off, nowadays I'm throwing peace signs n***a", over distinct, ambient synths and soulful keys Ozer and Paqgod go back and forth to paint a vivid picture of someone attempting to get away from surrounding...