• Champ Green • D.Bledsoe • Dj D sharp • Ian Kelly • MacArthur Maze • NOBL
New visuals from the MacArthur Maze crew, "PANTHER BRUCE LEE" Featuring Ian Kelly, D.Bledsoe, Champ Green Produced by DJ D Sharp Directed & Edited by NOBL. The saga continues and MM click isn't slowing down the push. Share, download and tell a friend. Get some more info "PANTHER BRUCE LEE" and check out the Drums & Ammo review of MacArthur Maze's recent full-length project "Blvck Saturday" HERE 1.Artist Name MacArthur Maze background - Bay Area rap group/ crew - recently featured on KRON4 Live in the Bay, KTVU2 Mornings on 2, opened for Talib Kweli, Yukmouth & Styles P Influences - Hotboys,...
---
• Fantastic Negrito • Ian Kelly • James StickNasty Small • monophonics
I was introduced to  James "StickNasty" Small through the best sources possible: other Friends of Drums & Ammo Fantastic Negrito and Kelly Finnigan of "The World's premier psychedelic soul band, Monophonics".  I spent NYE 2022 at home watching the live stream of the Monophonics with Fantastic Negrito Show at The Guild Theatre located in Menlo Park, CA (The Bay Area). This being one of the rainiest New Year's Eve's I could remember, making it home after visiting with friends to watch the Homies rock in the comfort of my living room was cool as hell. Fantastic Negrito is always on point when it comes...
---
• Blvck Achilles • Champ Green • D.Bledsoe • Dj D sharp • Ian Kelly • Jane Handcock • NOBL • Roux Shankle
For the third consecutive month Macarthur Maze shares another visual- "San Pablo Dam" produced by DJ D Sharp and Directed by NOBL. This time around we hear from members Champ Green, D.Bledsoe & Blvck Achilles. The video highlights Downtown Oakland as Macarthur Maze continues to exhibit their intent to put on for the Bay. With this momentum it's safe to assume a full length project is probably not far off. But for now, enjoy "San Pablo Dam" along with "First Friday" & "Thank You Have a Nice Day" all on Youtube now! Follow The Crew: @MacarthurMaze
---
• Blvck Achilles • Champ Green • D.Bledsoe • Dj D Sharp • Ian Kelly • Jane Handcock • MacArthur Maze • NOBL • Roux Shankle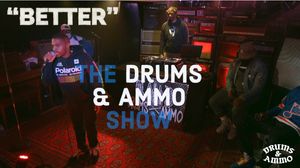 The Drums & Ammo Show "Better" Ian Kelly with DJ D Sharp at The Complex (San Francisco) Check out "First Friday" from Macarthur Maze, the latest from Ian Kelly the crew produced by DJ D Sharp Out Now @macarthurmaze Ⓜ️Ⓜ️ #dna @Firstnameian @DJDsharp www.DrumsAndAmmo.com Filmed at The Complex Recording Studio, SF #DNA
---
• Blvck Achilles • Champ Green • d.bledsoe • Dj D sharp • Ian Kelly • MacArthur Maze
The Drums & Ammo Show "Cookin Up" Blvck Achilles with DJ D Sharp, filmed at The Complex Recording Studio, SF. Check out "Friendly Neighborhood Demigod" the latest album from Blvck Achilles produced by DJ Basta HERE Ⓜ️Ⓜ️ Follow them: @BlvckAchilles @DJBasta,  #DNA