• Ke Turner • Nikki Grier • Nottz • Rah Digga • Rapsody • Roux Shankle • The Jealous Guys
DNA "Friendly Fire" tonight w/ @ammbaataa 9-10pm www.ADP.fm @alldayplayfm 🔊 new music from @thejealousguys_ • @nottzdaruler • @livinglegends • @rouxshankle • @worldwentcrzy and more, tune in #DNA
---
• Backwood Harri$ • Champ Green • DJ Twelvz • Jaji Preme • LaRussell • Poo$ie • Rapsody • The Jealous Guys • Tope • westside gunn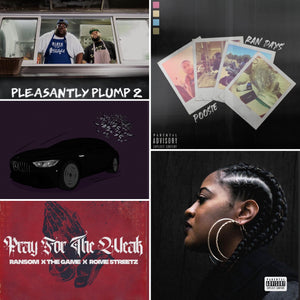 DNA "Friendly Fire" tonite with @ammbaataa ⚡️ 9-10pm www.ADP.fm @alldayplayfm , new music from @therealransom feat @losangelesconfidential @romestreetz / @djtwelvz & @champgreen feat @fabbydavis / @backwoodharris / @jaji.___ / @rapsody / @poosie_apex and more tune in 🔊 #DNA
---
• 1979 • 2 chainz • 2-Left • 209 • 36 Chambers • 36 Trap Houses • A-1 • A-F-R-O • A-Plus • Above All • AC3 • Adam Raps • Baghead • common • Conway the Machine • CPlus • cumbia • Curren$y • Hip Hop • Professa Gabel • Say Hey Kid • The Jealous Guys • Toby
    Producer Baghead was brought to DNA's attention last year by fellow SF native's The Jealous Guys with the video/song "Baghead - 4 Tires Flat (ft.) The Jealous Guys, Professa Gabel, Ozer check it HERE. Since then we've kept up with his maneuvers including his recent DJ set opening for the Psychedelic Soul Brother #1 Madlib at San Francisco's historic music venue 1015 Folsom. Baghead has that Old Soul sample foundation fused together with a traditional Bay Slap frequency. As a producer myself searching for that sweet spot of samples combined with 808 drums has been a life long...
---
• Deleongotwaves • raindrops • san francisco • The Jealous Guys
Drums & Ammo and The Jealous Guys have been connected since TJG's first visual for The Ballad (2010). As a matter of fact, The Jealous Guys are responsible for being a driving force to the inception of www.DrumsAndAmmo.com, being a major inspiration to the DNA of DNA. After speaking to Casa (TJG) after checking "Raindrops" he made sure to reiterate that his main concern is restoring that classic feel that's been missing. Personally I realized I hadn't watched a video back to back to this level since Donald Glover's "This is America". "Raindrops" pulls you into the Day in the...
---
• 2 chainz • 2-Left • 36 Chambers • 60 East • 9th Wonder • Adelaide • Altered Crates • Ammbaataa • Ammbush • anderson .paak • AON Preme • Audio Vandals • Babs • backwoodz studio • Baghead • bay area • beat • Beezy love Bands • Big Hongry • Bilal • Biz Markie • boot camp clik • Brookfield Deuce • Buffalo • Cava Menzies • Champ Green • Charlie mack • Chase Moore • Cheap limousine • Chester • colemine records • Conway the Machine • D'angelo • Dame The Drummer • dapper dan • Ozer • Paqgod • san francisco • The Jealous Guys
  San Francisco's own 'Ozer', has been nurturing his lyrical gift since the age of six, when he first began using music as his sanctum from the challenges of life. On his new track, 'Get Busy', Ozer teams up with DC native, now Bay Area residing artist, 93 Paqgod for the mellow, yet powerful track, produced by Cheap Limousine. As stated within the chorus, "Been tucked off, nowadays I'm throwing peace signs n***a", over distinct, ambient synths and soulful keys Ozer and Paqgod go back and forth to paint a vivid picture of someone attempting to get away from surrounding...